Welcome
to the Saint Paul class of '64 Paulite connection.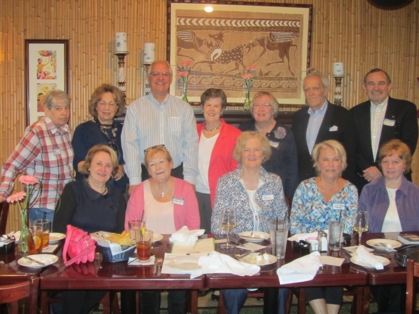 April 2017 lunch
front - Jana B, Celeste L., Liz C., Sue M., Nancy W.
back - Betsy M., Karen D., Tom D., Mary Q., Carol C., Bill M., Barry T.
Class of 1964 Greetings!
It's 2020, we're in our 74th year and it might be a good time to reconnect. You didn't miss the 50th reunion. Didn't we have a 10th and a 22nd ?
So, here is a program that allows us to have a virtual reunion and we'll see what develops from here. Everybody has a story to tell and you can share as much as you like. Pictures are fun. We know you don't look like that yearbook photo!!
Click on the "First Time Visitors" link to find out how to update your information.
Sadly, there are 10 deaths that we have documented.
We have e-addresses for 35 of us (pretty good start?) and hopefully you can help with many more for the 82 that graduated with us.